What is a crown?
A crown is a tooth shaped covering which encases the whole tooth.
A crown is an ideal way to repair a tooth that has been broken, weakened by decay or has been previously heavily filled. Crowns can also be used to improve the cosmetic appearance of the tooth.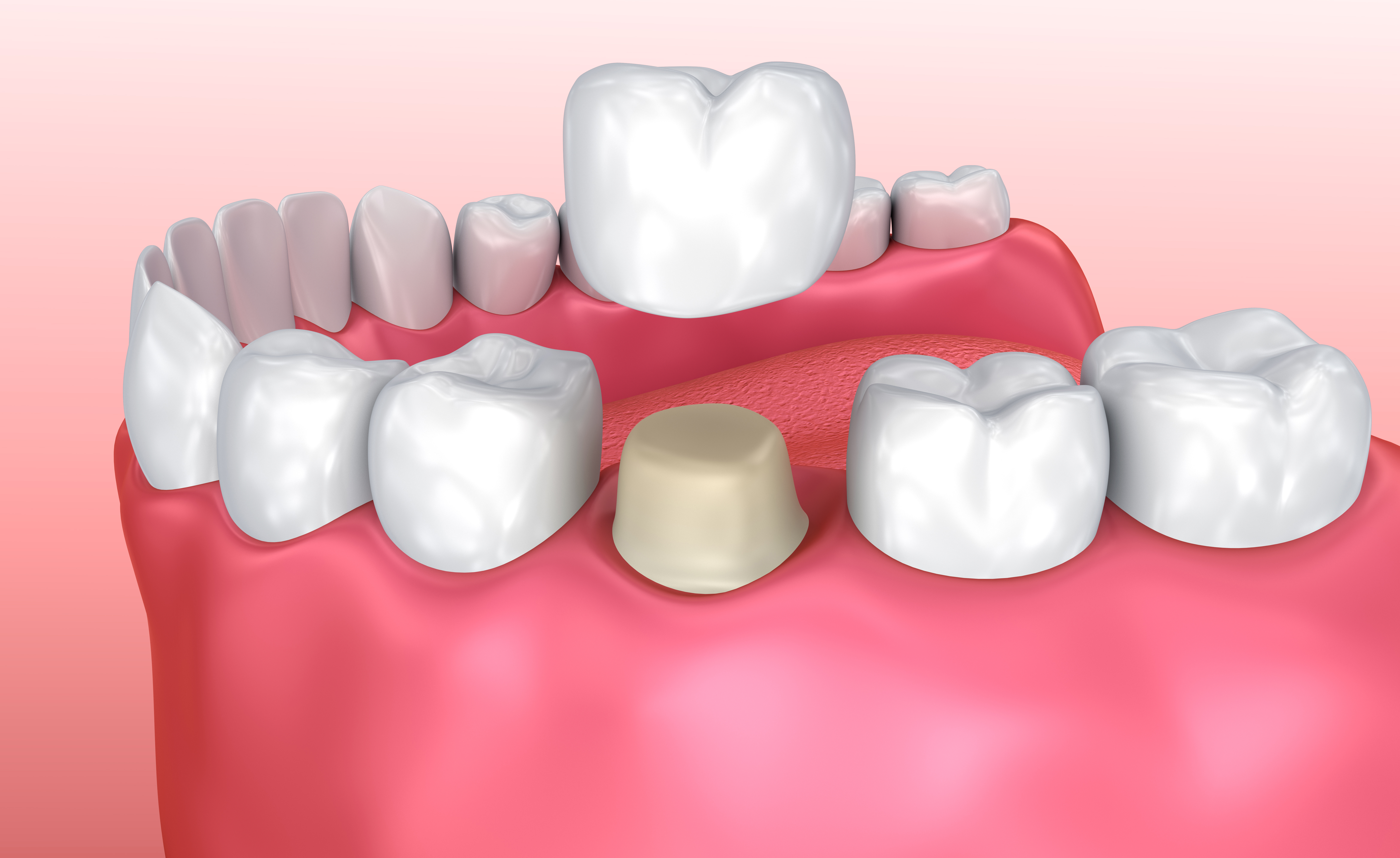 Types of Crown
PFM (Porcelain – Fused – to Metal)
This crown has a metal shell with tooth coloured porcelain covering the outside of the crown. The metal portion gives strength and the porcelain gives a natural tooth-like appearance.
Full metal crown
This type of crown looks exactly as it sounds. They are usually made from either gold (precious) alloy or nickel (non-precious) alloy. These crowns are usually a good option for restoring back teeth as the crown is less visible and is very strong and durable.
Opalite Crown
This crown is made from translucent zirconia. It is highly durable, metal free and reflects light naturally giving a natural tooth-like appearance. An opalite crown is virtually unbreakable which is particularly great for patients who grind their teeth.
Emax crown
An emax crown is an all ceramic crown. They are extremely resistant to chipping or being fractured. They look great aesthetically and are great for front teeth restorations due to their natural appearance.
Procedure
Once you and your dentist have decided a crown is the best treatment option for you, you will be given 2 appointments.
The first appointment will be to prepare the tooth for the crown to be fitted over it. This appointment lasts roughly 30minutes and involves the dentist taking impressions of your mouth as well as slight adjustments being made to the natural tooth itself. Your dentist will place a temporary crown over your natural tooth which will protect the tooth until your bespoke crown can be fitted.
At Abbey Dental Clinic we can produce our own dental crowns in practice, if required; your crown can be made in one day!! We have up to date technology which allows us to do this.
A Sirona Omnicam Intra oral scanner is used to take digital images of your teeth and we also use a Serona Cerec MC milling machine which carves out the crown. Your crown will be custom made and designed to fit over your tooth perfectly.
If your crown is being sent to a laboratory to be made it takes approximately 2 weeks until it will be returned to your dentist to be fitted. At your fit appointment, your temporary crown will be removed. Your permanent bespoke crown will then be checked for fit and appearance, once you and your dentist are happy it will then be cemented on and fixed into place.